Oct 5, 2016 – Give your customers the credit they deserve
By Kevin Lawrence
With the holiday shopping season just around the corner, now's the time for retailers to ensure their customers get the credit they deserve to make large purchases. And Versatile Credit will help with its own holiday sale.
We'll waive the $99 activation fee and take 50 percent off your first month's service fee if you email me, klawrence@versatilecredit.com, or call 717-620-2567 by Oct. 14.
In return you'll have the Versatile Credit Cascade solution designed to overcome the challenges with today's retailer-initiated application processes. With Versatile, the customer can apply directly and maintain control of their personal information. Retailers are freed from the time required to process applications and the awkward decline discussion.
The results speak for themselves. Versatile Credit:
• Increases credit applications by 20 percent.
• Reduces credit denials by 40 percent.
• Delivers $4,000 per approved application.
• Increases each credit sale by up to 30 percent.
With Versatile's Credit Cascade, customers denied by primary lenders can choose to send their applications to secondary lenders and rent-to-own options.
It's all about providing more applications, more approvals and more sales.
Happy shopping.
Aug 3, 2016 – Mattress Retailer Turns to Versatile Credits In-Store, Cloud-Based System
By Kevin Lawrence
Big ticket merchants are leading a revolution in retail credit that improves the process for both their customers and sales associates. Gone are the days of tedious paper documents and lengthy approval times. Today, in-store credit is all about offering access to leading finance providers through a cloud-based system promoting privacy, security, speed, ease-of-use and increased approval rates.
One West Coast mattress chain has found the solution that works for its stores. On a recent afternoon, a man entered one of the outlets looking for a new mattress. When he asked about credit a sales associate led him to a Versatile Credit floor-standing kiosk. The associate then turned his attention to assisting other customers.
Over the next two minutes the man followed the intuitive prompts on the kiosk's touchscreen to enter basic information such as his name, address, social security number and address before tapping an icon sending the data via a secure network to the retailer's prime financing partner.
Literally within seconds the kiosk printed a ticket indicating if the application had been approved and for what amount. If not approved, the application could "cascade" to a near prime finance company. If necessary, it would be presented to a no credit required option.
According to one chain official, the solution from Versatile Credit offers customers convenience and privacy, frees store personnel from application processing and leaves no sensitive paperwork or data to be filed or destroyed. The retailer completed phasing the system into all stores this spring.
"The results have been great," he said. "Based on last month's report, our approval rates have nearly doubled in some stores. That translates into more credit, more purchases, more profits and more loyal customers."
The official said about 70 percent of applicants are approved by the retailer's prime lender. Very few customers fail to qualify for at least one credit option, but those who don't are spared the embarrassment of a sales associate informing them they were declined.
Once approved, customers can show the confirmation ticket and two valid forms of identification to a sales associate to make an immediate purchase.
Versatile Credit can even work with retailers to customize kiosks with product videos, picture and other media to help generate customer interest and drive sales. The retailer will soon add an icon providing information on extended warranty programs. Also, a recently completed video showing how a memory foam bedding line manufactures its products will be looped on the kiosk to provide more information about a top-line product.
The chain's near-prime lender first suggested the Versatile Credit systems as a way to speed and increase credit approvals – retailers using the system across North America report an average 20 percent increase in applications with approvals averaging $4,600. The mattress retailer's official went to a nearby furniture chain store using the system for a demonstration. He liked what he saw and his chain soon began phasing in the kiosks.
The plug-and-play systems were set up and running the same day they arrived. Kiosks are available in floor-standing models, as this retailer chose, along with table-top units in a variety of colors to meet virtually any show floor environment.
The system operates over each store's network. No customer credit data is maintained by the kiosks. Online software updates are made overnight while the stores are closed.
Since 2007, consumer applications using the Versatile Credit system have resulted in more than $14 billion in approved credit.
The mattress chain official said his chain operates a highly competitive market requiring constant reviews of promotions and technology to stay on top.
"Our Versatile Credit system helps us provide the financing our customers want and need," he said. "And we get a painless application process that help us create more sales and profit. Everyone wins."
(Kevin Lawrence is vice president, sales and marketing for Versatile Credit, the leading provider of in-store, self-service credit application solutions. For more information about Versatile Credit, please visit the website https://www.versatilecredit.com )
Jul 17, 2015 – The retail credit process: There has to be a better way
One of the struggles retailers face is providing customers with access to easy, convenient credit options. Having store personnel involved in the process of entering customer applicant information can keep them from supporting other customers for 20 minutes or more. Further, the application process can result in a negative customer experience if the customer is declined. These reasons make some employees uncomfortable and unwilling to proactively offer credit.
Customers can be equally disillusioned with the process. Do I really want to fill out an application and hand my personal information over to someone I don't know? Worse yet, do I want to hand that information over to my neighbor who happens to work there? Add to that the customers who are interested, but feel their credit is marginal and don't want to take the chance that they will be declined.
There has to be a better way.
Retailers are excited by a self-service solution featuring a waterfall or cascade in which customers declined for credit by the prime lender elect to have their information passed down to a sub-prime and even a no-credit-required option. A self-service kiosk is a great solution to this problem.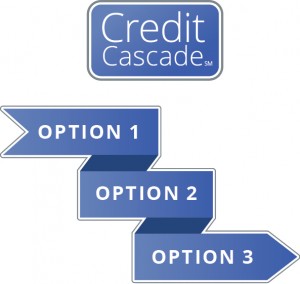 Consumers are invited to interact with the kiosk display by rotating images and video. When the screen is not busy processing a credit application it can be programmed to announce promotions and sales. It can also be the repository for product information and videos. Special order inventory is accessible by the touch of a button. How-to videos and product spec sheets are displayed in brilliant high definition.
This results in a win-win-win. Employees are more productive and focused on selling. Customers are more inclined to apply for credit because they feel the kiosk is more secure and they are less concerned about the potential of being declined by a machine than a person. Retailers win in big way. Those deploying these solutions typically experience an increase of 20 percent in applications, a 40 percent increase in approvals and a 30 percent increase in credit sales.
There is a better way to process and provide customers with retail credit. And it already working in thousands of storefronts across North America.
Jun 15, 2015 – As recently appeared in Furniture World
Advantages Of Self-Service Kiosks For Furniture Financing
By Kevin Lawrence
For years big-ticket retailers dedicated employees to lengthy, often error-prone, paper-and-ink based customer credit application routines too often resulting in embarrassing declines that cost retailers potential sales. Fewer customers even applied and many stores did little to sell the option.
To top it off, retailers also had to maintain customer privacy by securely protecting the application data. The process offered many downsides with too few benefits.
But today, many furniture and mattress retailers are increasing sales through the use of an in-store credit solution that makes it much easier for shoppers to get the credit they deserve.
A self-service, kiosk-based system linking consumers with multiple lenders reverses the traditional credit process in which shoppers selected goods then filled out applications with store personnel hoping to qualify for the necessary credit.
The kiosk system puts the horse in front of the cart. Many stores locate kiosks immediately inside the entry, where shoppers needing credit can begin the short application process by entering data via a touchscreen. Within seconds they know if they've been approved and for how much so they can shop within that price range. Thisprivate process removes the embarrassment factor from denials – an event possibly keeping customers from returning.
Customers show a greater willingness to share personal data with a faceless kiosk. They also benefit from the system's waterfall option. If the primary lender denies the application, the kiosk can be configured to automatically pass the information to a sub prime lender. It can even be configured for with a no credit check rent/lease-to-own option. More lending opportunities lead to more approvals.
Retailers using this process report a 20 percent increase in credit applications, a 40 percent increase in approvals and increases of 15 percent or more in transaction size.
One east coast-based furniture retailer offering kiosk-based credit applications said, "Customers might be looking for a $1,500 table and chair. But when they find out they've got a $5,000 line of credit, you have the ability to sell them a bit more. And that happens quite a lot."
That same retailer estimated his system returned a credit approval rate in the high 80percent range, with customers using the system spending 30 percent more than those paying with cash or other credit cards. While those numbers may be a bit higher than average, it demonstrates how effective the self-service kiosk approach can be.
Self service. Privacy. Rapid decisions. No embarrassment. Higher approval rates. There's nothing for shoppers not to like.
Since most customers use the kiosks on their own, sales associates are removed from the credit application business, letting them focus on what they do best — spending time helping customers with purchasing decisions.
Another west coast furniture retailer said before adopting a kiosk-based system in 2009, his financed business represented about eight percent of his stores' sales. Today, that average is 11 percent — and as high as 20 percent in some locations.
"That's an important increase as our average ticket is about $800 more when we utilize our financing program," he said. "Every customer approved for credit provides us withmore opportunities to sell."
Retailers never see their customers' sensitive financial information. And with no data stored on the kiosks, there is nothing for retailers to protect.
The systems are plug-and-play and are up and running the day they arrive. Kiosks are available in floor-standing, tabletop and compact models and in a choice of colors to fit any retail environment.
Retailers can also use the systems to access reports and analytics to track kiosk and credit usage across all of their lending partners. As an added benefit, the systems have companion digital signage to direct customers to the kiosks, as well as provide visuals to support the retailer's brand, product and promotional messaging.
More applications. More approvals. Larger transactions. No security issues. Out of the credit process. There's nothing for a retailer not to like.
About Kevin Lawrence: Kevin Lawrence is vice president, sales and marketing for Versatile Credit, the leading provider of in-store, self-service credit application solutions.
Apr 8, 2015 – If you are not offering waterfall financing you are losing sales!
Furniture Today recently conducted a Finance Workshop with panelists from AcceptanceNOW, Crest Financial and Progressive Leasing discussing the criticality of multi-tier financing options. In summary, one out of three customers do not meet the standards form prime financing. Waterfall financing allows you to increase your conversation rate, create more tickets and increase the total transaction value.
Read more at http://www.furnituretoday.com/article/518412-third-tier-options-first-choice-some-consumers
Feb 2, 2015 – In-Store Credit Kiosks Increase La-Z-Boy Sales
Integrated Solutions For Retailers (www.retailsolutionsonline.com) recently carried an interview with Northern Chair/La-Z-Boy's Troy Kvingedal. Troy runs eight Northern Chair (operating as La-Z-Boy Home Furnishings & Décor) stores in California with two more locations opening soon. In this discussion, Troy discusses the positive impact the Versatile Credit kiosk has had in his stores.
Lender-approved customer credit allows customers to increase spending. How do your La-Z-Boy stores leverage this option on a regular basis?
We know that the average ticket is higher on financed purchases. So we actively promote special 36-month financing options around holidays such as Memorial Day, the Fourth of July, Labor Day and Columbus Day. This gives our customers the comfort of easily managed payments and, of course, helps them to fill their room with a complete La-Z-Boy set of furniture and accessories.
We promote our financing options in print and broadcast ads and ask our sales associates to offer financing when they feel it's appropriate. Also, our lender, Synchrony Financial (formerly GE Capital), provides us with tabletop signage urging customers to "Ask Us About Our Financing." And the Versatile Credit kiosk is located prominently on a track that runs around each store. Customers can't miss it.
We were in the heart of the recent recession when we first started using the Versatile system in 2009. Credit was much tougher to come by, as was traffic to our stores. When we adopted the kiosks financed business represented eight percent of our retail volume. Today that average is 11 percent – in some stores it's as high as 20 percent. That's an important increase as our average ticket is about $800 more when we utilize our financing program. Every customer approved for credit provides us with more opportunities to sell.
How has the credit application turnkey solutions helped enhance the customer experience?
Three words – convenience, privacy and efficiency – describe our credit experience.
It's convenient as customers can apply for credit at any time during their furniture-shopping experience. About 80 percent of our customers use the kiosk on their own without a recommendation from a sales associate. Customers asking about financing are guided to the kiosk.
The process is private. Our customers enter their information into the kiosk without any store personnel involvement. Also, the customer is the only one who knows if an application is denied – although that doesn't happen often. We have an average credit approval rate of 83 percent.
And it's a very efficient process. The kiosk alleviates some of the data entry chores that everyone is accustomed as part of filling out a finance application. An application takes only a few minutes to complete – all on a touch screen – and a decision is returned usually within 10 seconds. It's a very simple process.
We can tell just how popular the system is when one of our Internet connections crashes. Our sales associates get immediate complaints and we know that we risk losing sales until the connection is restored. Otherwise, we've had no negative customer feedback on the system.
Since our sales associates have been removed from the credit application process, they have more time to spend with customers helping them to select the merchandise they want. Also, our staff has nothing to do with operating the credit system. It's plug-and-play to get started and then it just works.
Jan 21, 2015 – Secondary Lender Credit Drives More Purchases
Retailers understand that attracting consumers into the store is only the first step towards closing a sale. Removing obstacles that prevent consumers from making a purchase is a vital step especially in larger ticket stores and access to credit is one of the biggest obstacles.
Credit helps bridge many customers who are eager to buy into a position to make a purchase and make it immediately. It also enables customers to make larger purchases typically between 15% and 30% larger based on feedback Versatile Credit has received from a number of its retail customers.
Most retailers have a relationship with a primary credit lender who is able to provide credit to a majority of customers applying. Unfortunately, there are still a large number of potential customers who are declined credit and end up leaving the store without having made a purchase, up to 50% of applicants in some retail segments and geographies. This obviously impacts the retail bottom line and leaves a negative consumer opinion of the retailer.
This is where secondary lenders are able to generate tremendous value. Secondary lender credit requirements are often more flexible and they often offer a number of alternative programs and plans. Versatile Credit experience indicates that adding a secondary lender typically enables retailers to eliminate up to 50% of their credit declines and tap into a significant additional revenue stream. More credit generates more sales which also leads to higher customer satisfaction and loyalty.
Versatile Credit supports a large number of national and regional secondary lending providers. Our Waterfall application process takes the information that a consumer has already entered into the kiosk for a primary application and when declined, with customer permission, uses it to populate the secondary lender's application. Although some additional questions may be presented if required, the Waterfall saves the consumer time, reduces frustration and maintains a high quality user experience. The Versatile Credit Waterfall gives retailers the option to support multiple lenders and let customer applications flow through until successful.
Great American Finance Co. (GAFCo) is a long time secondary lending partner of Versatile Credit and has been offering retail financing for 83 years. The partnership has generated impressive results with a 10 to 20% increase in application counts originated in same store locations using Versatile's kiosk over paper and electronic application processes. Importantly, 9 out of 10 credit approvals GAFCo issues are converted into a first sale that then drives repeat purchase rates in excess of 30%.
Todd Aaron from GAFCo attributes this increase to "the self-service and privacy efficiencies promoted by the kiosk. The numbers suggest customers prefer the streamline of the application information cascading from a single application process whereas retailers prefer giving customers a self-service channel for inputting their confidential information."
A nationwide furniture retailer is seeing the dual benefits of Versatile self-service kiosk and GAFCo's secondary lending capability. In the 12 months through October 2014 more than 20% of applicants for credit were rejected by the store's primary lender. Versatile's waterfall process quickly allowed these consumers to apply with GAFCo, be approved and to go on to make purchases. These additional customers contributed millions of dollars in additional revenue that could instead have walked away.
Bringing together the benefits of a private and secure credit application experience and a seamless transition to secondary lenders increases sales. This makes Versatile Credit the perfect solution for retailers across a wide range of markets with customers needing additional credit to make large purchases, from furniture and flooring to electronics, jewelry and automotive services.
Jan 13, 2015 – 18% Growth in Holiday Shopping Approved Consumer Credit
At Versatile Credit we are constantly monitoring the performance of our service. Comparing year on year numbers from the recent holiday period has provided some very impressive results. Between November 29 and January 5, nearly $255m in approved consumer credit was enabled by our kiosks. This is an 18% increase over the corresponding holiday period a year ago. Consumers completed nearly 74,000 applications and 71% of these were approved with an average credit approval of $4,851.
We will work throughout the year with our partners to improve the Versatile Credit experience for consumers and target further growth for our customers.
Dec 4, 2014 – Furniture Today highlights recent lender partnerships
Furniture Today is the complete information source for the furniture industry featuring retailer and manufacturer news, plus project trends and market analysis. This week's issue includes an article on some of our recent lender partnerships and how providing flexible credit options helps to drive sales.
Please visit http://www.furnituretoday.com/article/494008-versatile-credit-adds-three-options-portfolio to learn more.
Nov 6, 2014 – Floor Covering Weekly features retail credit
Floor Covering Weekly (FCW) is the go-to-publication for the retail flooring industry. As well as covering all types of flooring, FCW features items on industry and retail news and trends.
In this week's issue, FCW carries a special piece called "Credit: A Tool For Growth". With a focus on how retail credit impacts a store's revenue, the article features an interview with Versatile Credit's EVP of Product & Marketing, Rob Meyer.
Please visit http://www.floorcoveringweekly.com/Main/DailyUpdate/7342.aspx to read more on how our self-service in-store kiosks enable fast, private and secure applications for credit, helping flooring retailers to be more successful.
Oct 21, 2014 – Fortiva | YBUY add to lending options available on Versatile Credit
Fortiva | YBUY are the latest lending solutions to join Versatile Credit. Available separately or together, Fortiva YBUY bring a new range of secondary credit and lease-to-own option to retailers.
Fortiva utilises a proprietary credit model which pulls from multiple data sources and maximizes approvals for customers that have been rejected by a primary lender. For customers who are unable to satisfy the requirements of secondary lenders, YBUY provides simple to use and explain lease-to-own products that can tailored to the retailer's requirements.
Versatile Credit takes the out-dated and invasive process of applying for credit in a retail store and replaces it with a private and secure credit application experience that customers love. By offering a range of high quality lending options and a new approach to consumer applications, Versatile Credit is helping store owners to grow their businesses.
Sep 30, 2014 – AcceptanceNOW joins our ecosystem
We are very pleased to announce that AcceptanceNow has joined the Versatile Credit ecosystem. AcceptanceNow offers flexible rent-to-own agreements to consumers and extends the purchase options available on our credit kiosks. Versatile and AcceptanceNOW are continuing to work to together on innovative consumer experiences.
Providing retailers with multiple lending options is a key benefit of our solution. Our unique waterfall process seamlessly allows a consumer's application to flow from primary to secondary to non-credit alternative payment provider. Consumers with more options are less likely to be denied credit and more likely to close a sale.
The Versatile Credit waterfall has helped lenders offer more than $8B in credit to consumers through Versatile Credit kiosks.
Sep 16, 2014 – Welcome to Genesis Credit
We are very pleased to announce that Genesis Credit, powered by Genesis Financial Services has joined the Versatile Credit ecosystem. Genesis has provided consumer financing options for retailers who want to service more customers and grow sales by offering affordable consumer credit.
Versatile Credit and Genesis Financial Solutions have a shared goal of delivering the best possible customer experience to drive retail success and loyalty.
Retailers using the Versatile Credit solution typically see a 20 percent rise in credit applications with an increase in retail transaction size of over 15 percent. The application process using a Versatile Credit in-store kiosk is private, secure, quick and easy to complete. Credit decisions are returned in seconds. Since 2007, consumer applications using the Versatile Credit ecosystem have resulted in more than $7 billion in approved credit.
Sep 4, 2014 – Versatile Credit Is PCI Compliant
With security scares and breaches seemingly occurring every week, Versatile Credit has always ensured that consumer, retailer and lender data and processes are highly protected. This commitment took another step forward this week as Versatile achieved Payment Card Industry Data Security Standard (PCI-DSS) compliance. PCI-DSS is the standard for payment card security and involves a security assessment that looks at networks, software, policies and procedures.
Compliance brings a number of benefits; customers and partners can be confident that Versatile Credit's processes and systems have been externally audited and approved. This doesn't mean that we can sit back and congratulate ourselves. Security is a constantly evolving subject and PCI-DSS compliance is continually tested.
Being compliant also enables us to do some interesting integrations with payment cards, look out for updates in the next few weeks as we add to the Versatile Credit ecosystem.
Jul 18, 2014 – Global Electronics Firm Keeps Employees and Visitors Connected with Versatile Smart Sign(TM) and Front Desk
Keeping thousands of employees informed of important company events and announcements was a challenge for a leading global designer and manufacturer of electronic components and systems. Company officials found it was much easier after installing Versatile Smart SignTM, a platform that delivers rich media content to multiple platforms at multiple locations.
The turnkey Smart Sign platform employs large screens to share events, internal marketing initiatives, brand vision and information such as weather and news updates through a mixture of text, images and video. Cloud-based tools make designing and scheduling content simple and intuitive for company staff.
The company also wanted to streamline the process of checking visitors in and out of their facilities. Versatile Front Desk provided the solution without a need for a receptionist. The self-service platform integrates with directory services and voice over IP telephone systems to quickly connect visitors to the appropriate company employee and also prints visitor badges. By integrating with Smart Sign, Front Desk can also be used to provide visitors with information such as facility maps and company data.
"Smart Sign and Front Desk are two Versatile solutions that are helping companies around the world stay connected with their employees, customers and visitors," said Rob Meyer, executive vice president, product and marketing for Versatile Systems. "These systems help companies create a positive emotional attachment to the people who are most important to a business."
Jul 10, 2014 – Versatile's Smart SignTM Helps Build Customer Loyalty
A leading global heavy- and medium-duty truck parts retailer and service provider wanted a multi-media solution capable of engaging and informing customers at any of the company's more than 500 locations.
The company's corporate marketing team wanted a system to manage the overall screen layout and schedule product and service promotional content. They also wanted to enable store and regional managers to select live cable TV feeds and add their own localized promotional material.
Versatile's Smart SignTM is a turnkey solution that met all of these needs. Smart Sign Studio, provided a user-friendly web interface acting as a single point of access for management services in the Versatile Cloud. Feature-rich tools allowed the parts distributor's corporate marketing team to design screens, add media, schedule content, generate reports and monitor media players.
Local managers found it very easy to control certain screen spaces and elements providing a more tailored service for their customers.
"Now while this parts distributor's customers are waiting for service, SmartSign provides multimedia content to engage, entertain and inform them about new products, services and promotions," said Rob Meyer, executive vice president, product and marketing for Versatile Systems. "With the ability to deliver impactful corporate and localized content, they are building customer loyalty."
Jun 26, 2014 – NRF Stores Magazine Features Versatile Credit In-Store Credit Solution
Offering customers quick and easy access to credit helps retailers increase sales. That was the message from Doug Shaffer, vice president of Wolf Furniture, in the June issue of NRF's Stores magazine. Shaffer talked with a writer for the magazine about his company's success using Versatile Credit's in-store credit solution.
Wolf has been in the furniture business since 1902 and has 12 full showrooms and one clearance outlet spread across Pennsylvania, Maryland and Northern Virginia. In 2005, Wolf began working with Versatile Credit using its in-store credit kiosk to help its customers obtain financing. Prior to that the furniture company had customers fill out standard loan applications. At best the application process took 20 minutes, but sometimes it would take until the next day to get approvals or denials. In the meantime, the customer left the store and often times would not return. Company owner, Doug Wolf, knew he needed to make the process quicker and less onerous. That's where Versatile Credit came into the picture.
After installing Versatile Credit's in-store kiosks the whole credit application process at Wolf changed. Customers could quickly fill out a simplified online application using a touch screen kiosk and receive a decision in seconds. The process was quick, easy, private and secure. For the furniture company that meant more applications, a higher percentage of approvals and a resulting increase in sales. As Shaffer pointed out in the Stores magazine article, if a customer is looking at a $1,500 table and finds he/she has a $5,000 line of credit, it gives the sales association more room to sell.
The Stores magazine article focused on Wolf Furniture, but the Versatile Credit kiosk works in a number of retail environments including jewelry, flooring, home improvement, automotive and electronic stores.
May 27, 2014 – Welcome to our newest partner – PFS
We just announced our newest lending partnership with furniture-financing specialist PFS out of Mesa, Ariz. The company has been helping consumers purchase furniture since 2010. PFS will join our other institutions as a secondary lender on the Versatile self-service credit ecosystem. The PFS partnership now provides our retailers' customers with direct access to a total of 20 lenders.
The Versatile Credit kiosk solution is used in thousands of retail locations throughout North America. It offers a perfect solution for retailers with customers needing additional credit to make large purchases such as furniture, flooring, mattresses, jewelry, automotive equipment and electronics. Consumers can apply for credit quickly and privately and the system seamlessly transitions credit applications to a secondary lender when denied by the primary institution.
That convenience and direct access to lenders helps retailers by
Increasing credit applications by 20 percent
Decreasing credit denial by 40 percent
Increasing transaction size by 15 percent
Since 2007, consumer applications using the Versatile Credit ecosystem have resulted in more than $7 billion in approved credit.