Jul 17, 2019 – See an in-store credit system as a valuable customer service
By Kevin Lawrence
The time and money retailers spend on in-store customer service is a wise investment. Personal service is one area where online retail sites can't effectively compete with traditional brick-and-mortar stores. And surveys have consistently shown that customer service is very important to shoppers.
Customers want helpful sales associates capable of quickly locating merchandise. A well-trained staff able to explain differences between similar items is appreciated. And everyone likes a fast, friendly and easy checkout process. In a 2019 consumer survey by the International Council of Shopping Centers, 73% of respondents said good customer service increased the likelihood of them spending more money than they had planned.
Consider providing an easy-to-use, in-store credit application system as another important customer service. Judge the popularity of the Versatile Credit's managed service by its results; since 2007, consumer applications using our solution have resulted in more than $25 billion in approved credit. And that's from thousands of storefronts across North America. 
Shoppers like that our process is private and fast. It takes only a few minutes to complete and receive a decision from a prime lender. If the application is denied, it can automatically cascade to secondary lenders and no-credit required options. Our system helps close sales – up to 30% more.
And since shoppers complete our process entirely on their own, stores can free their sales associates from credit duty allowing them to provide more service to other customers.
Learn more about how other retailers have made their Versatile Credit system an important customer service.
Kevin Lawrence is Vice President, Sales and Marketing for Versatile Credit, the leading provider of in-store, self-service credit application solutions.
Jun 14, 2019 – The Return of Summer and Outdoor Entertaining
By Kevin Lawrence
Summer's here and the time is right for outdoor barbecues and entertaining. There's a growing multi-generational trend of outdoor socializing that's fueling demand for residential outdoor living products. Market research says this demand, along with a growing economy, is likely to drive home furnishings sales growth by 4% annually over the next few years.
Customers are looking to bring indoor comfort outdoors, spurring the sales of spacious lounges and armchairs. Grills large enough to handle a block party are popular. Manufacturers have responded with a broad range of products and accessories to match the needs of people with large backyards as well as those entertaining on a balcony.
Shoppers walking into stores this summer will be amazed at the available variety of grills, tables, seating and accessories. They'll also note that quality products are not inexpensive. To complete their purchases, many customers will require extra credit.
That's why retailers with a fast, private and easy credit application process have an advantage. And this is where the Versatile Credit system shines. Our cloud-based ecosystem uses in-store kiosks, tablets or retailers' computers to connect shoppers with lenders in an application process that takes only minutes to complete.
Customers fill out applications in private. Credit decisions are often returned in less than 10 seconds. If primary lenders decline an application, it can cascade to secondary lenders and even no-credit-required options. Sales associates are removed from the process and can continue to help other shoppers. The system's benefit to retailers is clear – more applications, approvals and increased sales.
See how our solution can improve your bottom line. Then let us help you make this a summer to remember.
Want to know more?
Visit our website and learn how our managed service including leading lending partners, proprietary software and easy-to-use hardware solutions can make a difference in your stores.
Kevin Lawrence is Vice President, Sales and Marketing for Versatile Credit, the leading provider of in-store, self-service credit application solutions.
May 11, 2019 – See Us in San Diego for Furniture First
As National Small Business Week comes to an end, it seems appropriate that we are heading off to the Furniture First Symposium in San Diego (May 13-15). Furniture First describes itself as a family of independent full-line furnishings and mattress retailers from throughout the U.S. The buying group has been operating since 1994 and has 220 stockholder-members, representing 495 stores in 47 states.
The group helps independent furniture retailers grow their businesses and profits by providing everything from expert advice and training to signage and human resources. The annual symposium provides members with networking opportunities and peer-to-peer sharing benefits. It also includes roundtables and "best idea" sessions combined with opportunities to socialize. At the same time, the symposium helps retailers learn about valuable products and services that can help them to operate more efficiently and profitably.
Our Versatile Credit team will be in San Diego showing Furniture First members how they can easily help increase their customers' buying power and provide them with access to the financing they need to make large furniture and mattress purchases. We'll be demonstrating our web-based retail credit platform that allows shoppers to easily and confidentially apply for credit online. We work with an excellent group of prime lenders and if those lenders decline an application it seamlessly cascades to second-look and lease-to-own lenders. It takes just seconds to get an approval.
Store owners and managers have a choice of using our beautifully designed kiosks, tablets, or their own computers. The benefits to the retailer are increased credit applications, approvals, purchase amounts and profits.
If you are going to be at Furniture First please stop by and see us in booth #23 or contact us to set up an appointment.
Mar 19, 2019 – Take a Deep Dive into Your Credit Program
By Kevin Lawrence
Analytics are critical for any business owner.  Understanding inventory, digital marketing, social media and advertising are just a few areas that require frequent attention. However, one critical area – financing – is often overlooked.
Retailers offering financing must login to their lenders' portals to see how the program is performing. That's easy enough if you only offer a prime finance option but most retailers also offer second-look and no-credit-required programs.  
Versatile empowers retailers to assess the effectiveness of their financing in a single consolidated report.  Average approval amount and approval percentage are just a few of the reported categories. Retailers can even drill down to the associate level.
With this data, retailers can focus training to improve areas that are not meeting goals.  Are customers continuing to your secondary programs if declined by your prime? If not, it is often because the customer was not informed that you offer multiple programs.  Associate data can be reviewed to determine how effectively finance is being promoted. Stores or associates that perform best can be profiled to set best practices that should be instituted by others.
Best of all, this reporting is automated and can be delivered on a daily, weekly or monthly basis to as many recipients as you deem appropriate.
If you're not already a Versatile Credit customer, visit our website for more information on our retail credit solutions. If you're already a customer and have questions about your reports, contact us at support@versatilecredit.com.
Kevin Lawrence is Vice President, Sales and Marketing for Versatile Credit, the leading provider of in-store, self-service credit application solutions.
Feb 26, 2019 – Connecting All Customers with Credit Options
By Kevin Lawrence
Wouldn't it be nice if consumers could always plan ahead for big purchases? But that's not realistic. Everyday life is full of surprises:
– A recent college grad needs new tires on his car but with student loans and other monthly living expenses he doesn't have the money now.
– The bills piled up after a husband was laid off from his job. He's back to work now and catching up. But his aging mother-in-law is coming to live with his family and they need new bedroom furniture.
– A young man about to propose to his girlfriend wants to have an engagement ring ready. However, he can't afford the one he knows she'll like.
There's no reason these people can't still become customers. They just need a little extra help. That's why savvy big-ticket retailers are creating easy in-store credit programs to accommodate all customers, from those with excellent credit ratings to those with little or no credit history.
What makes a credit program "easy?"
It starts with a kiosk, tablet or computer that allows customers to privately enter their demographic and credit information. There's no need for assistance from store personnel. The application should take only minutes to complete. Results should be returned in seconds. An easy program gently transitions consumers rejected by prime lenders to second-look or no-credit-required options.
What's the advantage to retailers?
Big ticket retailers spend a lot of money with in-store displays, special promotions and advertising to attract customers. But they can't realize a full return on their investment if potential customers are turned away due to a lack of credit options. Credit sales are vital to a retailers' bottom line.
Imagine a 20 percent increase in the number of credit applications. Think of approvals increased by 40 percent and average credit transactions boosted by 15 percent or more. That describes the Versatile Credit in-store credit solution.
Since 2007, thousands of North American retailers have counted on our systems to facilitate applications resulting in more than $24 billion in approved credit.
Our system helps the college grad get the tires he needs; the married couple to prepare for their mother-in-law and a young man to buy the engagement ring he wants.
Want to know more?
Visit our website and learn how our managed service including leading lending partners, proprietary software and easy-to-use hardware solutions can make a difference in your stores.
Kevin Lawrence is Vice President, Sales and Marketing for Versatile Credit, the leading provider of in-store, self-service credit application solutions.
Jan 23, 2019 – Turnkey Credit Solution Helps Drive 2018 Holiday Spending
By Kevin Lawrence
Big-ticker retailers have reason to optimistic for 2019.

Versatile Credit's annual survey of approved consumer credit during the recent 2018 extended holiday shopping season showed a 15 percent increase over the previous year's total. Between Nov. 23 and Jan. 2, 2019, our turnkey consumer credit solution enabled nearly $528 million in approved credit in big-ticket retail outlets.
This is good news for retailers and contractors offering furniture, home improvement, flooring, mattresses, jewelry, automotive products and services, appliances and electronics.
During the 41-day extended shopping season, Versatile's managed service processed 161,079 credit applications with a 70 percent approval rate and an average of $5,466 in credit per approval.
Our credit solution is used in thousands of North American retail locations to provide consumers with a private, secure and quick credit application process. Versatile Credit systems include kiosks, tablets or merchant-owned computers to connect credit-seeking consumers to more than 24 potential lenders. If the retailer's primary lender declines, the application can be sent to secondary lenders – often reducing credit denials by up to 40 percent. Applications take only minutes to complete and credit decisions are generally received in seconds.
Retailers using the system typically report a 20 percent increase in credit applications and increases of 15 percent or more in transaction size. Since 2007, consumer applications using the Versatile Credit ecosystem have resulted in more than $23.5 billion in approved credit.
Want to be part of our 2019 survey? Visit our website for more information on how Versatile Credit can help grow your business throughout the year.
Kevin Lawrence is Vice President, Sales and Marketing for Versatile Credit
Dec 12, 2018 – Second-Look Financing is Key for Growing Your Home Improvement Business
By Dan Franke
Competition is fierce in today's economy, making it even more critical for home improvement businesses to find new ways of closing sales with customers. Many businesses lose opportunities every day by not offering tiered financing options and overlooking a huge market segment: consumers with less than perfect credit or a limited credit history.
In the home improvement industry, tiered financing is key to closing a sale for all consumers. According to Synchrony Analytics, 44 percent of consumers would not have made a major purchase, or would have chosen another merchant, if financing had not been available. The average home improvement sale ranges between $7,000 and $8,000 and the majority of Americans do not have $5,000 in savings, so the ability to finance home improvements is paramount to closing the sale.
Partnering with Genesis Credit can help businesses leverage the power of second-look financing to engage with the non-prime segment. The average cost for second-look financing is only 1.10 percent more for the contractor, yet the addition of a second-look option provides a 10-15 percent approval lift for the business. Considering the approval lift and that financed sales are on average 20 percent higher than cash sales, the benefits of a second-look program significantly outweigh the minimal cost of providing a second-look option and would generate sales that would otherwise be lost.
Providing tiered financing programs gives businesses the first opportunity to provide non-prime consumers with financing to purchase the products and services they need. With non-prime consumers, the take rate does not significantly change with the higher payments because they understand their credit options are limited and welcome the opportunity to work with a contractor that provides multiple financing options.
Versatile Credit provide a seamless, single frictionless application process for the consumer. If a consumer's application is declined by Synchrony, it can be sent to Genesis Credit for review and approval in real time. With higher approval rates than other second-look providers, Genesis Credit allows home improvement businesses to earn more customers, increase sales and build brand loyalty that drives repeat business.
For more information on Genesis Credit solutions, contact Dan Franke at danielfranke@genesis-fs.com.
(Dan Franke is Vice President, Business Development for Genesis Credit, the leader of second-look financing solutions.)
Nov 7, 2018 – Hitting the Jackpot
By Kevin Lawrence
I'm back from an amazing week in Las Vegas for SEMA 2018. Tens of thousands of retailers specializing in automotive service, tires, accessories and more were looking for solutions to help them grow their business and gain a competitive advantage. The retailers I spoke with were excited by the potential that finance could help them increase sales and profitability. One retailer commented that offering finance was the best thing they had ever done as their business had grown by nearly 20 percent as a result. Another was excited that they would no longer need to carry customers until they finish paying for the job.

I also heard some concerns from retailers regarding finance. Comments like "my guys know cars, not finance." Another commented that is was awkward asking their customers for personal information and they did not like telling someone they were declined. Some shops offered multiple programs to increase the likelihood that the customer would be approved but complained that they had to process multiple applications.
I really enjoyed explaining to these retailers that there was a self-service finance application option that freed them from processing applications and could cascade to secondary programs if declined by the primary. Retailers really liked having the option to use their own computer or a Versatile Credit-provided tablet or kiosk. They really liked that the kiosk could digitally market to their customers when not busy processing an application. Reminding the customer of seasonal service needs, tire protection plans and other ticket-building services is a great feature. Best of all, the process is virtually paperless eliminating the requirement to store sensitive applicant information.
Contact us to learn how we can help grow your business.
Kevin Lawrence is Vice President, Sales and Marketing for Versatile Credit
Sep 18, 2018 – Plan Now to Get the Most Out of the Holiday Shopping Season
By Kevin Lawrence
The U.S. economy is booming and American consumers are ready to spend. Labor Day was the biggest shopping day of the year so far with more than $2 billion spent online, according to data from Adobe Analytics. That's up a whopping $1.68 billion from just last year. And that increase seems to be coming from big ticket items like electronics, appliances, mattresses and jewelry.
Brick-and-mortar stores like Walmart, Nordstrom, Lowes and Home Depot are also experiencing strong sales and analyst expect that momentum to continue into the holiday season. When you combine all of that with NRF statistics showing 17 percent of consumers start their holiday shopping in September – the message to retailers is clear – the time to plan for the holiday season was yesterday.
But, it's not too late. There are a lot of things you can start doing right now to make sure your retail store or operation gets the most out of the holiday consumer spending wave. You can start planning your promotions, develop advertising plans and website content and make sure you will have the staff you need.
It's also important to make sure you can provide your holiday shoppers with resources they need and want to make purchases. Today's consumer is changing. Price is important, but so is customer service and convenience. People want options. Of course they want product choices, but they also want payment options – whether it's credit/debit cards, ApplePay, GooglePay or cash, they want to be able to choose how they pay.
The same thing goes for financing options. During the holidays people are more likely to buy big ticket items like TVs, computers and furniture. Often times that means they are looking for a way to finance those purchases. More people are looking to take advantage of promotional financing offers.
We work with retailers across the country to help get their customers the financing they need for everything from tires and jewelry to furniture and dishwashers. Our credit platforms provides them with a quick, easy and confidential way for customers to apply for and get credit. Retailers don't have to fill out a lengthy credit applications or store sensitive credit information. That means retailers have to hire fewer employees to handle those tasks.
Customers simply fill out and submit a quick application on line. A decision is made in a matter of seconds. If the customer doesn't qualify for first tier lenders the applications is sent to second-look financing partners and they can even be given rent-to own options. We find retailers generally get 40 percent more approvals and 30 percent more sales.
Give us a call and we can get you set up before the holiday rush. You'll be ready to provide your customers with everything they need to shop and buy with you.
Sep 6, 2018 – Retail CIO Outlook recognizes Versatile Credit kiosks
By Kevin Lawrence

Retail CIO Outlook magazine recently named Versatile Credit as one of its 2018 Top Ten Retail Kiosks providers. Our three countertop and floor-standing kiosks were highlighted for being "at the forefront of providing retail kiosk solutions and impacting the marketplace."

This is a great validation of the hard work our team put into designing a convenient and easy-to-use method for delivering our industry-leading, in-store retail credit application service.

Our customers tell us they appreciate the visibility our kiosks bring to a store's credit offerings. Strategically placed, the kiosks immediately invite shoppers to apply for credit. We recently had one retailer tell us a customer located a kiosk, entered his application information and received an approval without any direction from the sales team.

Kiosk touchscreens as large as 22 inches make it simple for customers to enter their financial data. Larger furniture, flooring and bedding outlets often use several kiosks spread across the show floor to make it even easier for shoppers to apply for credit.

About 70 percent of our customers choose kiosks to provide our service. But we haven't forgotten the retailers – such as jewelry and automotive services shops – where floor and counter space is limited. We offer those customers the same proven service using a tablet or even the store's own computer to connect shoppers and lenders.

Choose the form factor that works best for your store. Each one lets customers apply in private so there's no embarrassment for denied applications. Decisions are returned in seconds. And with our Credit Cascade, applications denied by the primary lender can seamlessly pass to a secondary lender and even a no-credit-required option

Store sales associates are virtually removed from the credit process. Retailers report 20 percent or more growth in applications. A 40 percent increase in approvals is not unusual. Credit-based transaction size typically rise by 15 percent or more.

Visit our website to learn how you can select the best way – kiosk, tablet or computer – to provide your customers with the credit they deserve.

Kevin Lawrence is vice president, sales and marketing for Versatile Credit
Jul 3, 2018 – 4 Steps to a Better In-Store Credit Application Process
By Kevin Lawrence

Many customers arriving at an automotive services shop for a set of tires or new brakes may
require financing to make the purchases they want and need. Smart shop owners understand
and provide a consumer-friendly, in-store finance application process rather than risk losing
these potential buyers.

It sounds simple. But it takes thought and planning. A bad finance process may be no better –
and maybe worse – than no program at all. Any program needs to meet the needs of shoppers
with high credit ratings to young adults still building credit histories and those who may fall in
between.

There are basic elements any successful plan should include. Make sure your store has these
four bases covered and you will likely have a winning finance program.

Privacy

Customers really don't like sharing their personnel financial details with store sales associates.
And that's what happens in those stores still using a pen-and-paper application process or
verbally requesting the information. Shoppers might walk away rather than go through this
potentially painful method.

What works is a private process, one in which customers can privately enter their information
into a kiosk, tablet or computer. The only role of store personnel should be pointing out the
location of the application device.

And this really works better for employees as well. Talk with a few of them and they'll tell you
the old credit application process was intrusive and left them feeling uncomfortable.

There are a couple of other privacy issues involved. Make sure your process includes properly
storing or destroying any application data. Or better yet, use a system where everything is
created and shared with lenders online. And make sure the connection between the shop and
your finance providers is encrypted and secure. You don't want hackers getting into customers'
private information.

Ease of Use

It should take no more than five minutes to complete an in-store finance application. All that's
needed are the basics such as name, address, telephone number, employer's name and
monthly income and expenses. Make it much more difficult than that and a customer might still
back away.

Let the customer review what he or she has entered and then make it clear where the
application is going when the "send" button is hit. People don't like surprises when it comes to
their finances.

Quick Decisions

The application has been filled out and submitted. And now everyone, the customer and service
manager, wait. Don't keep them waiting too long. Customers come into the shop needing tires
or services and they want them now. Their time isn't unlimited. The pen-and-paper credit
process might require a customer to come back the next day for the results. And every retailer
knows that once a customer leaves, the chances of closing a sale are dramatically reduced.

With everything online and computerized, an application decision should be returned in
seconds. Don't be afraid to work with your lenders if that's not the case. Remember, they don't
make money if you lose potential customers.

Second looks

Not everyone has a credit score that attracts a primary lender. These customers may have to
consider secondary or even a no-credit-required provider. But they shouldn't have to go back
through the original process to be considered by these other lenders.

You want a frictionless process. If the primary lender declines the application, it should, with
the customer's approval, flow to the next options. That process saves time and results in more
shoppers receiving the financing they need.

Once approved, customers can show the confirmation and two valid forms of identification to
a sales associate to make an immediate purchase.

It's not unusual for a shop owner using a system with these customer-friendly processes to see
applications increase by 20 percent. Some retailers report a 40 percent jump in approvals with
as many as 90 percent of applicants approved by offering multiple financing layers. And shop
sales can increase by 30 percent.

Customers know what they want. It's the shop owner's job to see they get it. In a highly
competitive marketplace, retailers need to take advantage of all the tools at their disposal.
Creating a painless, non-threatening credit application process is a great first step in that
direction.

With the right finance solution in place, customers drive off on new tires. Retailers increase
sales and build customer loyalty. It's a great situation where everyone wins.

(Kevin Lawrence is vice president, sales and marketing for Versatile Credit, the leading provider
of in-store, self-service credit application solutions.)
Jun 11, 2018 – Second-Look Financing Helps Jewelry Retailers Convert Sales
By Tony Amitrano

According to a 2017 study conducted by the Fair Isaac Corporation, 56.8 percent of the population has a FICO score of 700 or higher. The current jewelry finance space is already saturated with effective prime lending options for customers with a proven history of paying their bills in perfect or near-perfect fashion. On the other end of the spectrum, many rent-to-own or lease-purchase options exist for consumers with poor (10.8 percent of 2017 population) or no credit history.

But what about the 32.4 percent of jewelry customers in between excellent and poor credit? Filling this middle tier credit space are two main groups of consumers, starting with millions of millennials without a proven credit history, yet a need to finance purchases as they venture out on their own. Then there are millions more consumers who suffered a drastic credit hit when they fell behind on payments during the Great Recession but have now repaired their score to a level above damaged credit. They expect to be treated differently than those who remain with damaged credit. Should these consumers have to pay the higher rates of tertiary finance companies? Shouldn't there be an in-between, second-look, finance company to service this in-between, second-tier consumer?

Until recently, prime lenders dealt with second-tier jewelry consumers by simply declining them. Traditional second-look lenders charge businesses a very high discount fee to service these customer, making second-look financing an unattractive business option.

To fill this void and provide a sustainable market solution in the jewelry market, PayTomorrow (www.paytomorrow.com) entered into the consumer finance arena with a unique two-stage contract supported by a common-sense approach: offer jewelry customers a second-look financing option with rates based on the consumer's actual credit profile, rather than charging the merchant for the consumer's credit risk.

PayTomorrow's underwriting system enables each consumer to receive an offer customized directly to their credit worthiness while keeping merchant fees consistent and low. Using sophisticated underwriting metrics, PayTomorrow services jewelry consumers deep into the credit spectrum with rates ranging between 50-70 percent of current lease or rent-to-own programs. This results in a higher sales conversion rate for jewelry retailers offering PayTomorrow as an option.

With Versatile Credit's Cascade platform, PayTomorrow can be seamlessly integrated into a jewelry retailer's already existing consumer financing "waterfall." The second-look program is supported by Versatile on their standalone kiosk, their Essex tablet, and on merchant- owned computers. When a consumer's application is declined by a prime lender, it is automatically sent to PayTomorrow's for a credit approval. In a matter of seconds, the consumer and merchant will receive a credit decision with a max spending amount. With a consumer approval and acceptance percentage consistently hovering above 60 percent, PayTomorrow allows a jewelry retailer to close additional sales and generate more revenue.

With PayTomorrow's program, second-look financing now has a viable option to service the millions of middle-tier, "in-between" credit consumers. In conjunction with Versatile's Credit Cascade program, jewelry businesses can now provide an affordable true waterfall of first-, second-, and third-look financing options to service any consumer that walks into their stores and be well positioned for high conversions and lasting success.

(Tony Amitrano is senior vice president of sales for PayTomorrow)
May 8, 2018 – Here comes Gen Z
By Kevin Lawrence

Generation Z is arriving and retailers should take notice. These young Americans born between 1994 and 2010 now make up the largest segment – 26 percent – of the U.S. population. And surveys show, unlike their older Millennial brothers and sisters, members of Gen Z prefer shopping in a store rather than online.

Many of the millions of Gen Z members now reaching adulthood need to furnish an apartment, pay for automotive supplies and services and, maybe, buy jewelry for a significant other. They'll likely need credit to purchase what they want and need.

This is where Versatile Credit plays an important role in turning Gen Z shoppers into buyers. Our in-store credit solution lets shoppers fill out applications in private using one of our kiosks, a tablet or customer facing store-owned computer.

The speed of our process fits well with a generation used to instant, always-on access. Applications take only a few minutes to complete before being sent over a secured network to the store's primary lender. Decisions are returned in seconds.

Unfortunately, Gen Z's lack of previous credit makes it unlikely many applications will be approved by a primary lender. If an application is denied, our Credit Cascade feature can send it to a secondary or a no-credit-required option. This latter choice is likely where many Gen Z consumers will begin their credit careers.

Again, Versatile Credit is well set for Gen Z. We partner with twelve of the top no-credit required providers

As they make their payments on time each month, these young consumers will be building a solid credit history. And retailers can develop a loyal following.

(Kevin Lawrence is vice president, sales and marketing for Versatile Credit, the leading provider of in-store, self-service credit application solutions.)
Apr 20, 2018 – Retailers Also Like Choices
By Kevin Lawrence

Imagine walking into a furniture store and seeing couches available only in beige? Or finding your local jeweler offering watches in one style with the same gold band? That wouldn't go over well with customers.

Everybody likes choices. Fortunately, retailers provide many options. Don't like beige for a couch? Then choose white, burgundy, gray or even mellow moss.

When it comes to offering in-store customer credit systems, Versatile Credit offers retailers choices. We know a one-size-fits-all approach doesn't work for every retailer. That's why we offer several solutions to meet the specific needs of each store.

Some retailers run the Versatile Credit system on their own in-store computers. Others like the size and portability of a handheld tablet. And our original kiosks – available in either floor-standing or countertop models – are widely used for their ability to attract customers.

Retailers often like the dedicated finance kiosk – or multiple kiosks – which customers can find and use on their own. Tablets are popular with retailers who like the idea of sales associates roaming the store with a credit application system in hand and never needing to leave the point of decision to apply for financing. And still other stores prefer to use their own already existing computers. We have many customers even mix and match a combination of the three choices.

And we provide even more choices with the ability to custom brand the floor-standing kiosks and our Hive counter-top model is offered in just about any color.

But no matter which device retailers choose, the process and results are the same. Consumers still privately enter their data. This takes minutes with limited need for store personnel involvement. Decisions are returned in seconds and denied applications can cascade to second-look or no-credit-required options.

Retailers using the Versatile Credit platform see a 20 percent increase in credit applications and up to 40 percent fewer denials. Customers get the merchandise they want while retailers increase their sales.

Customers want choices. And so do retailers. That's why we make our system easy, fast, reliable and flexible.

If you want more information on the Versatile Credit choices, contact me at klawrence@versatilecredit.com.

(Kevin Lawrence is vice president, sales and marketing for Versatile Credit, the leading provider of in-store, self-service credit application solutions.)
Mar 22, 2018 – Bringing in More Sales with Second Look Financing
By Joe Ferguson

As many as 56% percent of Americans have FICO scores below 700, according to recent data from cited in the Washington Post. When prime financing providers must deny credit to your would-be customers, Fortiva Retail Credit's second look financing solution approves many of them using a proprietary underwriting system that assesses their ability to repay with data informed by more than 20 years in the retail financing business.

Once a customer is denied prime financing due to credit worthiness, Versatile Credit's Web Credit Cascade will automatically initiate a second look financing application with Fortiva Retail Credit. Because we instantly approve 30 to 50 percent of applicants who were initially declined by a prime lender, businesses using the revolutionary solution can quickly and significantly increase their revenue with more closed sales.

Because it can take between 7 and 10 years to right the ship on negative credit history, the large population of customers with less-than-prime credit scores includes many viable customers with strong cash flows that may have taken a credit hit several years ago. The "credit-impaired customer" spans all ages and demographics as evidenced by a TransUnion report that points out that nearly half of the highly diverse millennial generation have less than prime credit. This means that, regardless of your business' core customer-base, second look financing is a necessity to close sales on big-ticket items for a large percentage of would-be customers.

Seamless, Instantaneous Application

Fortiva Retail Credit provides 10-second "instant decisioning" to make the approval process quick and stress-free for applicants, and for businesses using Web Credit Cascade, the instantaneous process is made even more seamless by cutting out the need for a second application entirely. Because the financial information that is entered for the initial credit application is securely "cascaded" down to the second look application without any extra input from the customer or salesperson, the already-quick process becomes even more immediate.

In addition to the speed that the secure integration offers in the second look application process, Web Credit Cascade also ensures a better overall customer experience. In some cases, customers may be reluctant to apply a second time after being declined by a prime financing provider, or sales personnel may be hesitant to even ask the customer for a second application. By cutting out the need for a distinct second look finance form, your sales team can focus on what's important – ensuring that the customer has a great experience.

Business Impact

By offering second look financing, your business opens the door for a large segment of the population to make purchases they otherwise could not make. In addition to the resulting sales and revenue increases, the customers you help will be grateful for the opportunity to make their much-needed purchases – leading to return business and more referrals. This customer satisfaction is further boosted by the quick and seamless process offered by Fortiva Retail Credit and in conjunction with Versatile Credit's Web Credit Cascade.

Beyond the customer implications, more sales mean a happier salesforce – especially those who benefit from added commissions. In addition to the inherent value of happy employees, reduced turnover will pay off in the form of reduced recruitment and training costs.

In Sum

Second look financing helps a massive percentage of the U.S. population make necessary big-ticket purchases. By offering a second look option, businesses are setting themselves up for financial success and a lasting impact on their customers and sales personnel. Still, businesses that offer a top-level provider like Fortiva Retail Credit, especially in conjunction with the Web Credit Cascade, are uniquely positioned for lasting business success.

Joseph Ferguson is the Director of New Business Development at Fortiva Retail Credit, the only second look consumer financing program serviced by a publicly traded company with decades of experience servicing credit-challenged consumers (issued by Mid America Bank and Trust Company). He can be contacted at joe.ferguson@fortivafinancial.com.
Aug 7, 2017 – Beating the Desert Heat with More Choices
By Kevin Lawrence

We've just completed another successful Vegas Market. Even temperatures of 106 weren't enough to keep merchants away. I enjoyed hearing from many customers who shared how important our service is to them in growing their businesses. Many were excited to learn about our new Web Credit Cascade option which lets the merchant use Versatile-provided tablets or their own computer for customers applications. It was great to have more options aligned with each merchant's unique requirements.

Still, kiosks continue to be the preferred option for most retailers. The option to place the kiosk strategically in their store is a great advantage. It frequently becomes a conversation starter with customers inquiring what the kiosks are for.

Tablets are a great option for sales associates to carry with them and provide to customers at the point of decision. Now the customer can sit down on the couch they have chosen to purchase and apply for the credit they need to take it home today.

Merchant computers work great for retailers who want to use computer stations to also process finance applications. This is the most economical option as it doesn't require any new hardware.

Some merchants opt for a hybrid approach. One merchant who already had kiosks was anxious to also use their own computers. When I asked why, he explained that "Adding our computers allows for more application stations when the kiosk is busy."

Retailers understand how important it is to offer choices. So do we. Our kiosk and web-based options provide choices, allowing retailers to find the solution that works best for them.
Jun 26, 2017 – Make Music, Not Credit Hassles
By Kevin Lawrence
Here's a not-too-uncommon music store scenario.  A mother comes to the store needing a violin for her daughter who's joined the school orchestra. Her son wants a new guitar so he can become the next big rock star.
But guitars and violins are major expenses, requiring extra credit for many families.
This is where in-store credit can help close sales. But the traditional paper-and-pen application process discourages many customers and is highly unpopular with store employees. Applications are tedious and require an employee's help to complete. Denials may leave customers too embarrassed to continue with a purchase.
For the past 10 years, Versatile Credit has offered retailers a better way – self-service kiosks allowing customers to privately complete the application process. Recently, that process was made even easier for music stores with handheld tablets and/or merchant-owned computers augmenting floor-standing and countertop kiosks.
Space is a concern for many retailers, especially music stores. That concern has been eliminated with these new options.
Customers need minutes to complete their application and send it via the Internet to a store's primary lender. Decisions are typically returned in seconds.  Declined applications can cascade to secondary options.
Freed from potential embarrassment, more customers complete applications. The cascade option results in fewer denials. And that means more sales. Other benefits: store employees are largely removed from the credit process and there's no need to secure or destroy paper applications.
The Versatile Credit system has been proven in thousands of North American retail locations, where credit applications are up 20 percent, denials are reduced by 40 percent and the average approval amount is $4,000. Since 2007, Versatile Credit has facilitated more than $16 billion in approved credit.
The time is right to offer your customers a better credit experience.
Jun 5, 2017 – New In-Store Credit Application Options on Display at JCK
By Kevin Lawrence
Customers wanting fine jewelry often need extra credit to complete a purchase. The problem for jewelry stores and other retailers is connecting consumers and lenders in a quick and convenient credit application process. More than 10 years ago, Versatile Credit created a reliable solution using floor-standing and tabletop kiosk-based systems.
But kiosks don't always fit well for retail jewelers and others stores where counter and floor space are at a premium. So, Versatile Credit continues to revolutionize the industry with the introduction of handheld tablets and merchant-owned, web-enabled computers offering the same easy, in-store credit application process.
Consumers still privately enter their data into one of the devices. The process takes minutes with limited need for involvement of store personnel. Decisions are returned in seconds and denied applications can cascade to second-look or no-credit-required options.
Retailers using the Versatile Credit system see a 20 percent increase in credit applications and up to 40 percent fewer denials. Customers get the merchandise they want and retailers increase their sales.
The new service options provide choices. Retailers can now use the kiosks, tablets or computers — or a combination of all three — to best meet their specific needs.
All three Versatile Credit application process options will be demonstrated at JCK Las Vegas, June 5-8 in the Mandalay Bay Convention Center. Stop by booth L-100, belonging to one of our leading financial partners — Synchrony Financial, to see them in use.
Mar 20, 2017 – Tire Pros Offers Customers a Private, Convenient Credit Application Process
By Kevin Lawrence
Buying new tires isn't always a planned expense. When the tires are worn on your vehicle most people can't wait to replace them. That may mean borrowing money to get back on the road. So, tire shop owners know it's important to provide customers with a convenient and confidential way to get the credit they need, when they need it.
Tire Pros, the nation's largest network of elite, independent and locally-owned tire dealers now have a way to do just that. We just attended the retailer's national convention in New Orleans where we met with more than 80 tire shop owners and demonstrated our in-store credit solution. Our platform allows shop owners to direct customers to one of our kiosks located in the shop. The customer privately fills out the requested information and it's sent to our lender partners. Within minutes the customer can complete the approval process and continue on with the purchase.
Shop owners don't have to work with the customer to fill out the credit application. This is particularly important to Tire Pros' locally based owners. They live and work in their communities. When neighbors and friends come in to buy tires they don't want to be put in the position of asking personal and potentially embarrassing questions about finances.
You can image the conversation before Versatile Credit:
"Hey Jim, great to see you. How's your family doing? Now let's talk about those tires you need for your SUV. Yeah, I know they're expensive, but we have a great financing program you might be interested in."
The shop owner then asks Jim awkward personal information and enters it into a decision portal. If he's approved the experience was a little awkward. If he's declined the experience becomes very uncomfortable for everyone.
The Tire Pro shop owners we talked with were excited to have a self-service solution they can offer customers. It's a win-win-win situation where the customer, shop owner and lender all come out ahead. The customers maintain privacy, get the financing they need and their cars back on the road. And the shop owners gets the sale and a happy, loyal customer.
Feb 22, 2017 – Zibby now available to Versatile Credit Cascade Customers
By Kevin Lawrence
About Zibby
A point of sale, lease to own payment solution for online and in- store shopping. Zibby's 30 second no credit required lease purchase option currently serves the 46% of the US population who desire a flexible monthly payment option for durable goods. Zibby integrates seamlessly with retailers online and in-store to allow retailers to grow sales and delight customers in any channel.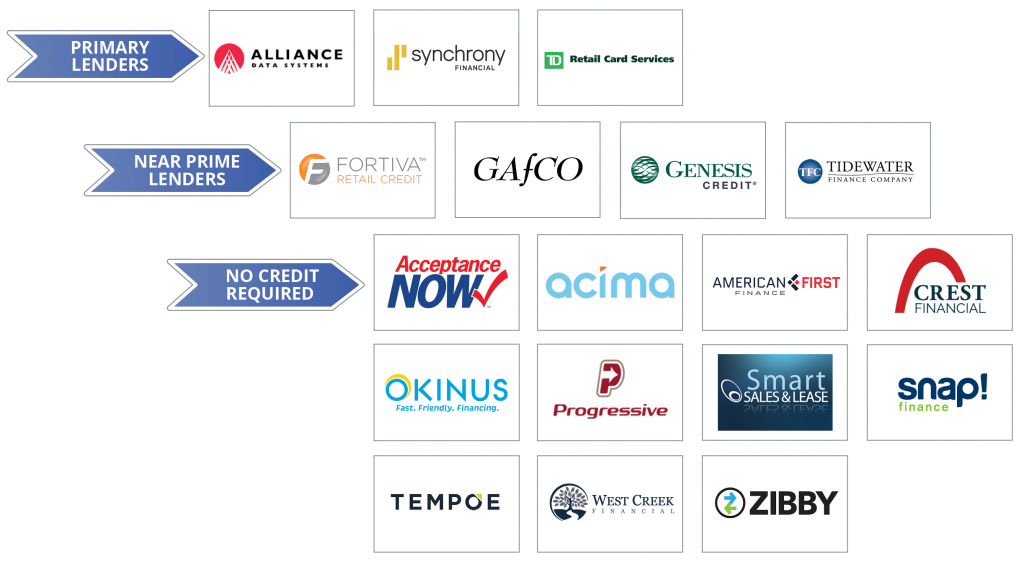 Feb 8, 2017 – 2017 Looks Promising for Big Ticket Retailers
By Kevin Lawrence
Many signs point to 2017 being a good year for big-ticket retailers. The economy continues to grow, unemployment is down and the stock market is flirting with all-time highs.
There are plenty of big sale "holidays" on the calendar. Manufacturers and designers are offering promotional pricing and some primary lenders are offering consumers zero percent introductory financing.
Early this year, Versatile Credit announced it enabled nearly $400 million in credit during the 2016 holiday shopping season, Nov. 25 through Dec. 31 – a 55 percent increase over the previous year.
That's all good news.
But today's consumer profile is changing. Millennials, who grew up around computers and smart devices, are now the largest group of adult shoppers. Most have done their homework on the Internet before entering a storefront. They know what products interest them, maybe even down to the exact color, fabric, pattern or features. And, of course, they know how much their purchase should cost. Armed with that knowledge, they aren't looking to shop. They're in the store to buy. Any delays in the process may cause them to rethink their decisions.
Successful retailers will have sufficient inventory or rapid access to more esoteric items. There will be adequate sales associates on the floor to facilitate purchases.  And big ticket retailers — those selling furniture, flooring, mattresses, jewelry, automotive services and high-end electronics — will offer credit solutions that fit today's consumers. That demands an in-store credit system that's quick, easy, private and offers solutions for the overwhelming majority of shoppers.
Surprisingly, some retailers still use pen-and-paper credit applications. These are tedious, require excessive personal data, remove a sales associate from the floor and may takes hours or days to receive a lender decision. A denial usually ends any hope of making a sale and developing a loyal customer.
Versatile Credit's kiosk-based solution remedies the above problems. A touchscreen application takes minutes to complete. The process is private with no need to involve sales associates. Decisions are returned in seconds. Denials by primary lenders can cascade to secondary lenders and even to no-credit-required options.
Most retailers using the system report more than 70 percent of credit applicants are approved by a primary or secondary lender. Those denied typically qualify for a no-credit-required program. That final option is valuable for many consumers, particularly younger shoppers, who may be financing for the first time.
Retailers report the Versatile Credit solution increases applications by 20 percent, approvals by 40 percent with a 30 percent increase in credit sales.
I know I'm very optimistic about 2017, especially for those retailers meeting the needs of their shoppers – from the right inventory, promotions, staff and credit options to generate and complete a sale.
Jan 5, 2017 – Connecting Customers with Lenders
By Kevin Lawrence
Retailers work hard to attract customers with special promotions, in-store displays and highly trained sales associates. But the effort can be wasted if customers aren't offered a simple and convenient credit process allowing them to purchase big-ticket items.
Since credit sales can make a significant difference in a retailer's profitability most big-ticket retailers give customer credit a top priority. Success is often determined by the method chosen to link lenders and customers.
An effective credit program must be quick and easy. It should be private to encourage customers to share sensitive data. Applications should take minutes to complete, with approvals provided in seconds.  There should be alternatives if a primary lender denies the application. And no data should be left behind for retailers to dispose of or to protect and store.
The traditional pen-and-paper application process offers none of the above benefits. Applications are tedious and approvals could take hours, even days. The required participation of store personnel eliminates customer privacy. Finally, the retailer is left with paperwork needing protection.
Moving it all to a store computer simply replaced the pen with a keyboard.
But technology has made it easy to connect customers and lenders. And store personnel can finally say goodbye to processing applications. Today, there's an Internet-connected, customer facing solution offering all of the attributes of an effective credit process that works for retailers, their customers and lenders.
Here's a look at that solution:
Privacy – The process is self-service. In the past, many customers passed on credit fearing for the safety of their personnel data or embarrassment if their application was denied. With the self-service process, store employees don't see what customers enter or if the application is denied.
Speed – An application takes just a few minutes to complete, requiring only basic personal information. Seconds later, the store's primary lender returns an approval or denial. Approvals also include the amount of provided credit making it easier for the customer and sales associates to focus on price-appropriate merchandise. Customers often leave the store with their merchandise.
No store involvement – Using this solution, stores no longer process applications. Sales associates can spend their time assisting other customers. And with no paper work or data stored, there is nothing for retailers to worry about.
Second chance – This is an extra, but very important feature of the solution. If the primary lender denies an application, it can be sent automatically to secondary lenders. There may even be a third opportunity with applications also sent to no-credit-required lenders for review.
The results speak for themselves. Retailers using this solution report a 20 percent increase in credit applications, a 40 percent increase in approvals and increases of 15 percent or more in transaction size.
Providing a viable option for customers to get the credit they need makes sense for any big-ticket retailer. But what criteria should be used to make a choice?
Judge the solution provider by its lending partners, both the number and quality. Ask to see the names of current retail users and markets served. Make sure the provider has been in business for more than a few years. And find out how much credit the provider's solution has enabled.
The right credit solution increases sales, builds customer loyalty and develops relationships with leading lenders.
(Kevin Lawrence is vice president, sales and marketing for Versatile Credit, the leading provider of in-store, self-service credit application solutions.)
Nov 21, 2016 – Best practices: Using the Versatile Credit Kiosk for Digital Marketing
By Kevin Lawrence
The Versatile Credit solution is great for providing shoppers the credit they need for making big-ticket purchases. Since 2007, our systems have facilitated $16 billion in consumer credit. That success sometimes makes it easy to overlook the kiosks' ability to display stunning visual content supporting brand messages and sales. Of course, that's when customers aren't completing credit applications.
One Western U.S. retailer uses the kiosks to reinforce the theme of outdoor living with videos showing people enjoying backyard furniture, barbecues and related products.  The display can be changed to mirror store promotions or other messages encouraging more purchases and credit applications.
Information about high-value extended warranties is displayed as customers of a mattress retailer complete their credit applications. When the kiosks aren't in use, they show videos of how top-line store products are made.
A Midwestern furniture chain doesn't have room in its stores to display all the items it can offer for sale. The kiosk acts as an electronic catalog showcasing other available designs fabrics and colors.
These best practices help Versatile Credit's retail customers take fuller advantage of the system's software and hardware. And the Versatile Credit team is ready to help our customers design custom videos, picture galleries and other messages.
It just one more way of making sure you get the most from your investment in the Versatile Credit system.
Kevin Lawrence is vice president, marketing & sales for Versatile Credit
Oct 31, 2016 – Smart Sales and Lease becomes newest Versatile Credit finance partner
By Kevin Lawrence
We are pleased to announce that Smart Sales and Lease will now be available to retailers on the Versatile Credit platform.
About Smart Sales and Lease:
Founded in 2001, Smart Sales and Lease pioneered the virtual lease category by offering the lowest consumer costs including 90 days, rebuilding credit (Equifax) and over servicing the retailer at the point of sale.  We are the only lease company that can offer you a true waterfall process in which your customer is not required to input additional information in order to receive an instant decision.  Your retail associates will love our lower consumer costs, retailer support and ease of application process.
Oct 17, 2016 – Best practices: Placing the Versatile Credit Kiosk
By Kevin Lawrence
The thing I enjoy most about my job is talking to retailers using the Versatile Credit solution. We are fortunate to work with retailers in most big ticket market segments and in every state and Canada.  While different in market focus and geography, I find commonality in how they make the most of their Versatile Credit solution. And I'm happy to share some of their best practices here.
One question that I'm often asked is where the Versatile Credit kiosk should be placed in a store. Here's what some of the most successful users have told me.
• Place the kiosk about a third of the way into the store. That gives a sales associate time to greet a customer at the door, determine what they're shopping for and if they will be needing credit. As they walk and talk, the kiosk will be there for those wanting to complete a credit application.
• Don't place it near a point-of-sale terminal or in other high traffic areas such as just inside the main entry. Customers like the privacy the self-service kiosk offers. Customers may not feel comfortable if they feel someone could be looking over their shoulder.
Those are just a couple of ideas I've heard from retailers. If you have thoughts about getting the most from your Versatile Credit system, please contact me klawrence@versatilecredit.com. I may share your thoughts in a future blog.
Kevin Lawrence is vice president, marketing & sales for Versatile Credit